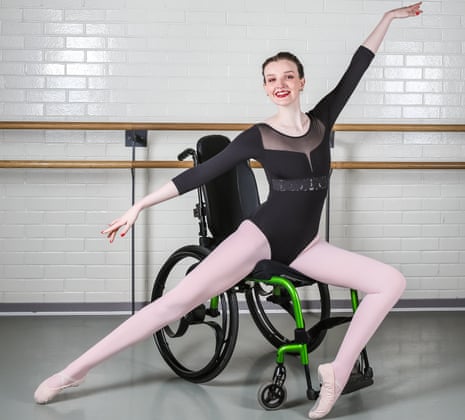 It's not very often one gets to say this, but on Friday, I danced on national television. It was for Channel 4's The Last Leg, the weekly chatshow hosted by Adam Hills. If dancing for the nation on TV is a rarity for most people, it's all the more so for me as well as being a professional dancer, I'm also a disabled wheelchair user.
The day had been quite demanding. I use more than 20 different kinds of medicine daily to treat a number of chronic diseases. I even had to practice the dance while lying down. My legs were trembling terribly as I returned to the hotel room with my dancing partner and my career, and I had to be helped out of my wheelchair. On TV, it was everything for a minute.
By the time I was able to get comfortable in bed at three in the morning, I was aware that hostile tweets were being sent. I've dealt with remarks of this nature in the past. I once heard that I should have purchased my wheelchair as a "prop," and in the past, because I was a handicapped dancing instructor, I was accused of benefit fraud. But I constantly believe, perhaps naively that continuing to do what I am doing would bring about change.
I anticipated there might be some problems after I appeared on the show. Since I use a wheelchair and can occasionally use my legs, I am an ambulatory wheelchair user. I was in my wheelchair moving my legs while watching the dance performance on television. And let me tell you, trolls hate it when people with disabilities move their limbs, especially if it has anything to do with one of their favorite shows. Just this month, there was a nasty online backlash to the news that Strictly Come Dancing is hoping to have a celebrity contestant who uses a wheelchair this year.
I became a wheelchair user at the age of 15, around a year after I received a diagnosis of ME. ME is a poorly understood condition to begin with, so when I became a wheelchair user with ME, I felt as if I had hit a double-whammy. I was regularly told I was "lazy" or "faking it" because my condition was so variable. Even now, people often don't believe I'm unwell because they only see me at my best.
I was later given the diagnosis of Ehlers-Danlos syndrome in my teens. I use a powerchair because this issue has caused me a lot of problems (an electric wheelchair). People are utterly perplexed by the fact that my mobility aids fluctuate depending on the day. I may need a completely reclined powerchair one day, enter a coffee shop with my service dog the next, and then become so ill that I am almost comatose for an entire day.
The variability of my condition is something that I know a lot of society doesn't understand. The truth is, I don't really understand it either. All I ask is for people to be respectful. I'm 28, so I have spent half my life non-disabled and the other half disabled, how I was treated as a dancer before I was disabled is totally different from today.
Due to the stigma surrounding ambulatory wheelchairs, many users are afraid to utilize their equipment. More crucially, users frequently lack eligibility for essential assistance, including benefits and appropriate equipment available through the NHS (including wheelchairs).
According to statistics, one out of every three wheelchair users is mobile. Many of these individuals will have fluctuating health problems and may alternately require the usage of various mobility aids or full rest.
Disability prejudice is still very much alive, but one thing is certain. The disabled community has built an incredible support system for themselves and together we are strong enough to make a change. Hopefully, there will have been people watching the dance last Friday who will have had their preconceptions around disability challenged, reacting not with scepticism or hate, but a newfound awareness.