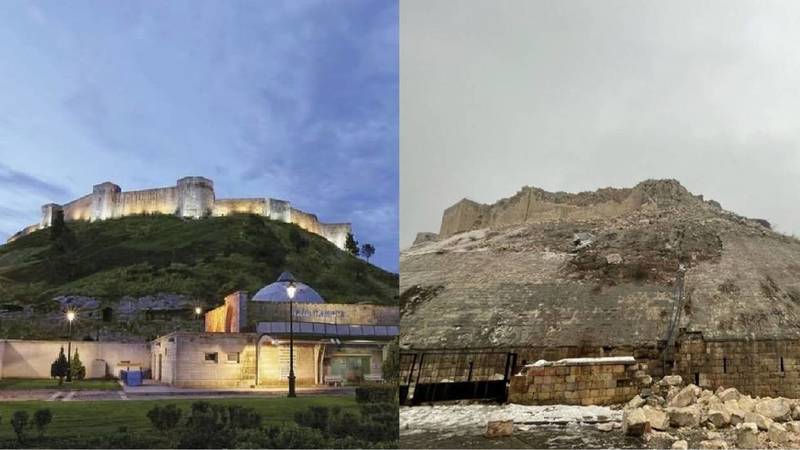 The terrible earthquake that slammed southern Turkey and northern Syria on Monday morning, leaving hundreds dead and thousands injured, badly destroyed historical castles and ancient structures in both countries.
According to Reuters and Turkish media, the old Gaziantep Castle was damaged by the earthquake that rocked Turkey and some of it was demolished.
The ancient Gaziantep Citadel sustained significant damage.
Turkish media reported that the ancient Gaziantep Citadel sustained significant damage as a result of its center being particularly vulnerable to the 7.4-magnitude earthquake that struck the Pazardik district of Kahramanmaraş.
According to the "Castel" site, the Hittite Empire utilized Gaziantep Castle as an observation post in the second millennium BC. The fort was erected there by the Roman Empire in the second and third century AD. In the sixth century, during the Byzantine era, the fortress received additional refurbishment and enlargement. The fortress was given to the Umayyads in 661, and it was inhabited multiple times after that.
In Syria
The medieval Citadel of Aleppo and historic structures in Hama were both seriously damaged as a result of the disastrous earthquake, according to the General Directorate of Antiquities and Museums in Syria.
According to a Facebook post from the directorate, "Damage to the Aleppo Citadel included the collapse of portions of the Ottoman mill, the appearance of fractures and cracks, and the collapse of portions of the northeastern defensive walls. The gates to the castle were destroyed, and large chunks of the Ayyubid mosque's minaret's dome, as well as the entrance to the defense tower, also collapsed." Mamluk, and the Ottoman hospice's exterior was harmed.
The directorate said that "historic buildings in Hama governorate were harmed," which resulted in the collapse of portions of some of these buildings' historical facades and the appearance of fractures and breaks in the facades and walls of other historical structures.
"In the ancient Al-Bashoura district, the façade of Aqar was damaged," she said. "In the city of Salamiyah, it was reported that the top portion of the tower of the Imam Ismail Mosque fell, which caused a fracture in the mosque's façade owing to the fall of the aforementioned components on it.
According to the US Geological Survey, a 7.8-magnitude earthquake at a depth of around 17.9 kilometers struck southern Turkey and Syria at 4:17 (01:17 GMT). The Pazardik district of the Turkish province of Kahramanmaraş serves as the earthquake's epicenter (southeast).
In addition to issuing a "level four alert" requesting aid from other countries, Turkish officials despatched rescue teams and planes to the region surrounding the city of Karamanmaraş, according to Reuters.